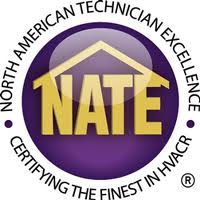 Who Are We? We Are The Best.
Affordable Heating A/C & Ventilation Service is a small business corporation.  Our mission is to provide high quality professional service to our customer.  Affordable Heating A/C & Ventilation Service INC owns up to it's company name, friendly services!
What You Get When You Hire A NATE-Certified Contractor
You can take the guesswork out of hiring an HVAC contractor by looking for the acronym "NATE" to quickly and reliably identify professionals with elite-level skills and credentials. "NATE" stands for "North American Technical Excellence," and it is an optional certification that can only be earned by the top HVAC professionals. In order to acquire North American TechnicalExcellence certification, a professional must pass a comprehensive, rigorous and difficult series of examinations which test their knowledge of advanced-level design, installation and repair concepts.
As a consumer, there are many advantages to choosing a professional HVAC technician with NATE certification. The extra testing and focus on a specialty, such as refrigeration, means the job is more likely to be done right the first time. You'll enjoy peace of mind by selecting a better contractor in the first place.
Second, you will benefit by ensuring that newly installed or recently repaired equipment will operate at the maximum possible efficiency. This not only reduces your utility bills, but it also helps you avoid costly repairs and equipment replacements down the road.
Third, you will benefit by having the opportunity to get advice and tips from a knowledgeable professional. Simply put, technicians with NATE certification know their stuff better than technicians who lack it. They know how to avoid pitfalls of inferior system designs and how to use installation and repair techniques that deliver a consistently high performance level.
Thanks,
Barrington White
Owner
Call Us Today!
631-693-5390
---